Playing games on a PC or laptop is a different level of experience altogether. Nintendo games and its gaming console have a huge impact on enthusiast gamers. Yet, there is a complaint from gamers that they cannot directly play Nintendo games on Windows PC. The developers are focusing on all possible emulators to get the latest technology across all platforms. However, the successful attempts have brought us the best emulators to play Nintendo games on PC. Essentially, a 3DS emulator for PC allows you play Nintendo games on computer without any hardware update. Also, these Nintendo 3DS emulators actually help gamers to get control over 3DS games on PC.
Fact is that many gamers love Nintendo games, but couldn't afford to buy a gaming console. 3DS emulator download for PC is the best possible way to get 3DS games on PC. Here we provide the list of best 3DS emulators for PC to experience the 3ds emulator games. These are just a collection of available emulators to play Nintendo games on windows. We have no idea of rating each of them accordingly or we do not endorse any of them. Users can check the below list and choose the right 3DS emulator for PC as per their choice.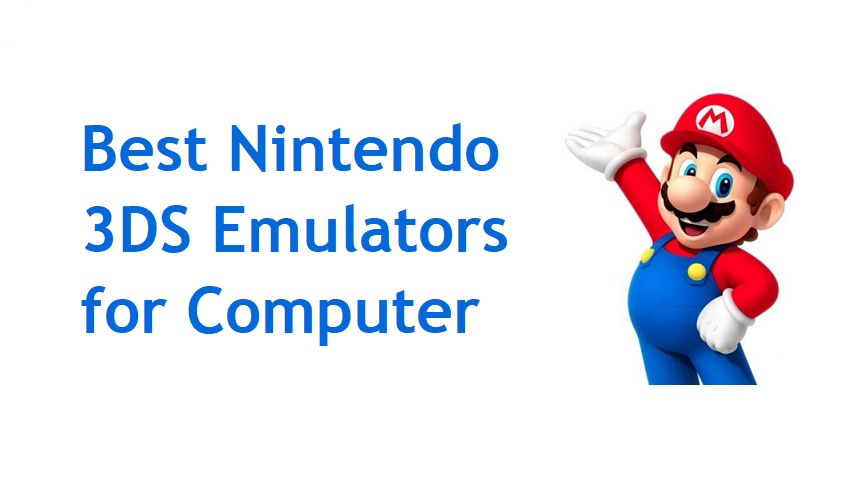 Check out the best Nintendo 3DS emulator for PC:
NeonDS emulator:
This windows only emulator launched back in 2011 has a huge user base. The emulator is available for free and is very light in terms of hardware usage. Perhaps, this can be the reason to claim this as one of the best 3DS emulator download for PC. The download is available at NeonDS official website and works very well for playing NeonDS game. But, it is a limited emulator and so the functionality in emulation. However, you can play all the Nintendo games with this emulator. Also, the user interface is very clear, easy to use and works smooth. Moreover, NeonDS emulator works faster compared to many newer players.
Citra 3DS emulator:
Citra 3DS emulator is the most popular program for 3DS emulator games. Its user-friendly interface and its compatibility across all platforms claim the best 3DS emulator for PC. Users need to have a 64-bit version OS to run this 3DS emulator for windows. Citra is an open source project and the best part is it's available for free. Another interesting fact is it's one among the very few Nintendo 3DS emulators available for Windows, Mac OS X, and Linux. Furthermore, the team of developers regularly works on updates to fix any stability issues. Though it offers reasonable 3DS emulator games, you cannot expect all the Nintendo console features in it.
iDeaS:
This can be the best pick if you are looking for 3DS emulators to play Nintendo games on computer. iDeas have its existence even on Android platform with a Nintendo emulator app. Undoubtedly, many game enthusiasts love to play Super Mario on computer. Also, there are some other games like Pokemon diamond which iDeaS serve the best. What stands unique among other emulators is the dual screen processing support in it. Moreover, the latest iDeaS emulator app update has brought many features for Android users.
Install Android multi tools: Know how to unlock Mobile pattern.
R4 3DS Emulator:
This Nintendo 3DS emulator carries the same design of its native CycloDS iEvolution. Unlike its earlier version, R4 3DS support new 3DS games and is not just restricted to DS mode. The developers claim that the newer version supports all the latest version 3DS emulator games. The emulator focuses more on providing the exact feel of the Nintendo gaming console. As a result, you'll find the insert cartridge" pop up message on the screen when the game is launched. Perhaps, this is the unique feature which many other 3DS emulators for PC don't have.
DeSmuME:
Technically, DeSmuME cannot be listed among the best 3DS emulators for PC. Yet, it can be a serious consideration if you are looking for a 3DS emulator for windows computer. Effectively, DeSmuME works well even on the 32-bit windows version. Thus, it takes place among the very few 3DS emulators for PC which works on low hardware configuration. However, even the games and the emulator functions are also limited compared to other. Taking the low configuration computers into account, DeSmuME allows users to play Nintendo games on PC. The team regularly works on updates to offer the best experience for its users.
That's our pick of 3DS emulators for windows to get your favorite Nintendo 3DS games on PC. As there is no fluent Nintendo emulator available with all functions of 3DS console, these are just alternatives to it. Users can choose the right one with suits their usage accordingly. Never the less, these 3DS emulators for computer provide the Nintendo games without actually buying the gaming console.