Text messaging is still a popular form of communication and still, there is a decent set of audience depending upon the service. Despite many other texting apps are rolling out the recent years, the service stands further with its raw text feature. However, this completely carrier-based service offers all default texting applications to pass on information. More precisely, T-mobile users are reportedly facing issues citing unable to send their text messages as message blocking is active. Here we provide you info about troubleshooting message blocking is active issue in iOS and Android devices.
The error quotes "Free Message: unable to send a message – message blocking is active." Let's check the common possible fixes for the issue encountered while texting. Hopefully, we believe the below-mentioned methods provide you the solution for the errors like 'unable to send message message blocking is active' and others.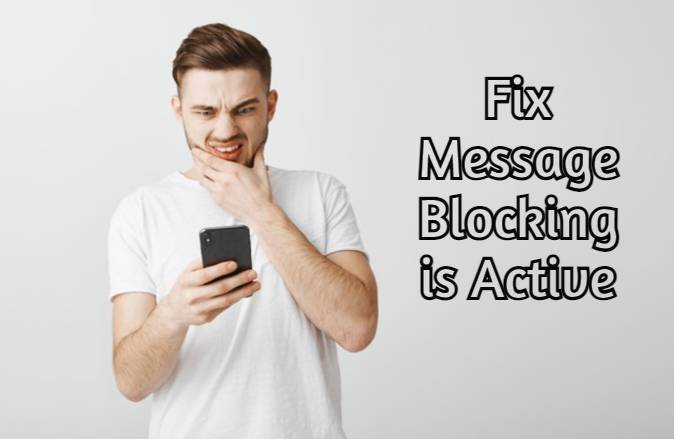 Checks ways to Fix Message Blocking is Active Issue:
Before heading to any possible fixes, go through the below check list and find if you can sort this message blocking is active error. Sometimes these simple hacks can help you to find a solution and you can continue enjoying your text messages.
Check if your phone is active or not. Check and confirm that your phone is 'Active' from the device settings page in your account. If you find listings like 'Suspended' or 'Still Porting', change it to active allowing it to send or receive text messages.

Sometimes restarting the process might help if the error is only on one phone. Ensure the number you've entered is correct and try delete and re-save the number and retry.

Check if the coverage in an area is listed as 'None'. You'll be facing difficulty to send or receive texts or make and receive calls if it is listed 'none'.

Provide proper country code if you face this issue only with international texts. This might be a culprit sometimes for message blocking is active issue.

In very rare cases, some users may face errors while sending non-plain-texts added to the message. Remove such special characters and try sending the message again.

Sometimes, a user might have not allowed to send and receiving premium messages on his mobile. Though this service can be allowed by the proper functioning of the application.
How to Cancel WOW Subscription
How to fix Message Blocking is Active Issue on Android:
Message blocking is active issue on android devices that can be sorted by checking 3 settings.
Carrier service blocking short message:
Check if it is the short message blocking by the carrier, if the error message appears like "free msg: unable to send message – message blocking is active"

This issue can be solved with customer care support, and you need to enter the 10 digit carrier number they provide.

You won't find any message blocking is active issue once you provide the carrier number in the settings
Avail Premium Messages access:
You need to activate this premium access in your phone settings

Go to settings and navigate to App Management,

Now select the messaging app and click on more Icon

Select special access and then enable the option to allow premium access
Blocking:
Another popular reason for message blocking is active issue would be the 'blocking'. There are chances that you have blocked the user you are trying to send a message now. Check the blocklist and unblock if you have blocked the contact. Also, ask the receiver to check if they had blocked you.
How to Empty Trash on Android Phone: Deleted Recycle bin on Android
How to fix Message Blocking is Active on iPhone:
Usually, iOS users face this issue when a new update occurs and the error message quotes 'free msg: unable to send message – message blocking is active'. Below are the ways to fix this coming message blocking error on iPhone.
Turn off the iMessage app and try sending messages. If the message is marked as sent, log out of your Apple ID and then Sign-in again.

If the above trick didn't work, try resetting network settings. Go to General settings and select Reset, tap on 'Reset Network Settings'
Probably the issue might be fixed by now. If it persists, contact customer care and make sure you have an active SMS plan on your number.
Hope the above methods help you to solve the message blocking is active on your Android or iPhone devices. If the issue persists, you need to see a recovery tool to scan if there are any scanned or corrupted files. Comment down your thoughts about which method worked for you.