Not everyone can afford a tablet or a computer to access the online world. So, free government tablet programs were initiated to provide tablets for low-income individuals. These programs serve various purposes and can be implemented in different sectors, such as education, healthcare, and public services.
Essentially, this free government tablet program will cut down the gap between low-income individuals and access to technology. The free tablet from government is equipped with internet connectivity which allows access to various online services. Individuals who do not have access to personal computers or the internet are aimed to be served with this program.
Also, the program helps for promoting digital access to educational resources, and government programs. Here we detail what these free tablets for low-income families are, how to qualify for them, how to apply, and the documents required.
Free Government Tablet Programs
Several programs and initiatives aim to provide subsidized or free tablets to low-income families and individuals. Here are a few among them.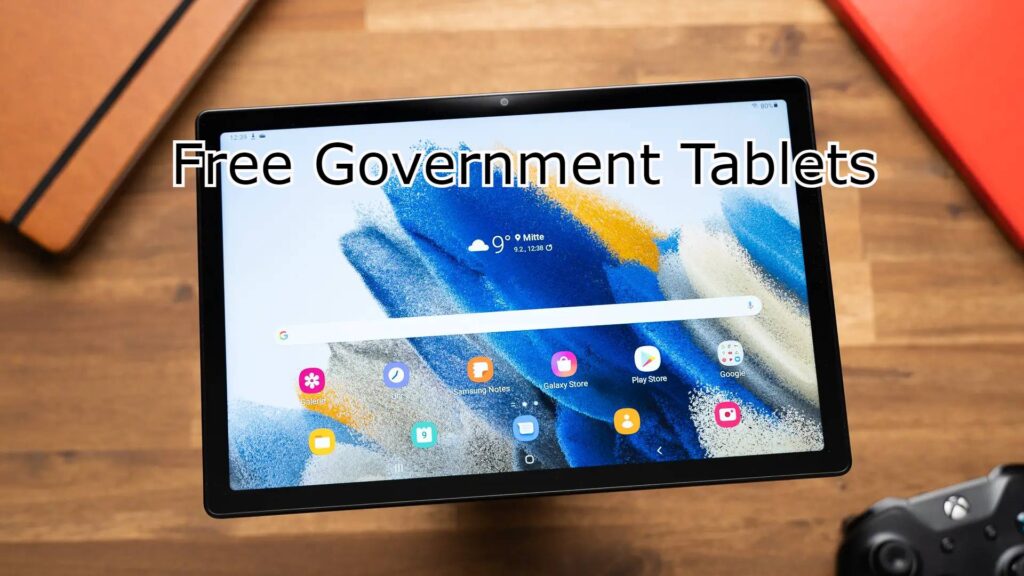 Lifeline Assistance Program: The Lifeline program, administered by the Federal Communications Commission (FCC), provides discounted or free tablets for low-income individuals. Eligible participants receive a monthly subsidy to offset the cost of phone or tablet service. The program is available in all states and territories.
Affordable Connectivity Program (ACP): The Affordable Connectivity Program is another FCC benefit program that helps ensure that households can afford accessible devices and broadband. They ensure to provide free gov tablets they need for work, school, healthcare, and more.
ConnectHomeUSA: ConnectHomeUSA is an initiative launched by the U.S. Department of Housing and Urban Development (HUD) that focuses on narrowing the digital divide for residents in HUD-assisted housing. The program partners with internet service providers and technology companies to offer free tablet from government and affordable internet access.
PCs for People: PCs for People is a non-profit organization that operates in several states across the country, providing low-cost or free tablets, computers, and laptops to eligible low-income individuals and families. They offer refurbished devices with internet connectivity options at discounted rates.
EveryoneOn: EveryoneOn is a national non-profit organization that works to connect low-income individuals and families to affordable internet services and devices. Through partnerships with internet service providers, they offer discounted or free tablets and computers, as well as low-cost internet options.
How to apply for Free Government iPhone 2023 | EBB Program
Eligibility Criteria Get Free Tablet from Government:
The eligibility criteria for free government tablets can vary depending on the specific program and country. However, here are some general factors that may be considered:
Income: Some programs may have income thresholds or be targeted towards individuals or families with low income or in need of financial assistance.
Education: Certain programs may prioritize students or individuals involved in educational programs, such as schools, colleges, or vocational training.
Age: Some programs may have age restrictions, targeting specific age groups such as children, senior citizens, or students.
Location: Programs may be specific to certain regions or areas, particularly those with limited access to technology or where the digital divide is more pronounced.
Government assistance programs: Individuals who are already beneficiaries of certain government assistance programs, such as social welfare or housing assistance, may have an increased chance of eligibility.
Documents required for Free Government Tablet
However, here are some common documents that may be requested during the application process:
Proof of identity
Proof of residency
Proof of income
Educational or enrollment documents
Proof of eligibility or participation in specific programs
How To Get A Free 5G Government Phones 2023: EBB Program
How to Apply for a Free Tablet From Government?
The application process for free tablets from the government can vary depending on the specific government program and the region. Besides that, you can also choose for online application form to get free tablet. However, you can follow these general steps for any program you choose.
Find the right Government program:
Start by researching government programs that offer free tablets or digital devices. Look for initiatives aimed at bridging the digital divide, improving digital literacy, or providing educational resources to disadvantaged individuals or specific groups.
Check if you meet the eligibility criteria:
Review the eligibility criteria for the programs you find and check you meet all of them. Government programs typically have specific requirements, such as income limits, age restrictions, or enrolment in certain educational or assistance programs.
Gather required documentation:
Ensure you meet the required documentation or information needed for the application process. These can be the ones we mentioned above or any other documents specified by the program.
Complete the application:
Fill out the application form accurately and provide all the necessary information. Be sure to double-check the form for any errors or missing information before submitting it.
Submit the application:
This could be an online application form to get a free tablet or a designated method specified by the government program. You can also mail the application to a specific address, or visit a local government office as they prescribed.
Once you apply, you have to wait for the program procedures. You can consider following up if there is any contact provided, to inquire about the status of your application.
Frequently Asked Questions (FAQs)
Do I have to return the free tablet after a certain period?
The terms and conditions regarding the ownership of the tablet vary from program to program. Some programs allow individuals to keep the tablet indefinitely, while others may require the tablet to be returned after a specific period or under certain circumstances. It's essential to review the program guidelines for accurate information.
Can I use the free government tablet for personal purposes?
Yes, you can use the free government tablet for personal purposes, such as browsing the internet, accessing social media, or using various apps. However, it's important to keep in mind that the tablet is intended to promote digital inclusion and access to essential services.
What features are included in the free government tablets?
The features included in free government tablets may vary depending on the program and the tablet model provided. The specific specifications and features of the tablets can be obtained from the program administrators or through program documentation.
Conclusion: Take advantage of these programs if you are eligible to get free government tablet. Remember, the availability and specific process for obtaining a free tablet from the government can differ depending on your location and the programs offered by your government. It's important to research and identify the relevant initiatives in your country or region to ensure accurate and up-to-date information.