AirTalk Wireless provides free phones and wireless services to eligible individuals under the Lifeline Assistance program. They aim to provide Airtalk wireless free phones for qualifying individuals under this federal initiative program. However, there are other programs that offer services at very low cost or free phones to eligible individuals.
Still, there are people who don't have access to smartphones even in this age. Lifeline program recognizes this need and is providing Airtalk wireless government phone for eligible ones. The service provider has created its mark by providing reliable and free government phones.
Essentially, this AirTalk wireless free phone program aims to make communication accessible to all citizens irrespective of their financial status. This Airtalk free mobile will provide all essential features and services to stay connected with the world.
Who Can Get Airtalk Wireless Free Phones?
Airtalk Wireless aims to make its free phone program accessible to as many individuals as possible. To be eligible, you generally need to meet certain criteria, which may vary slightly by state.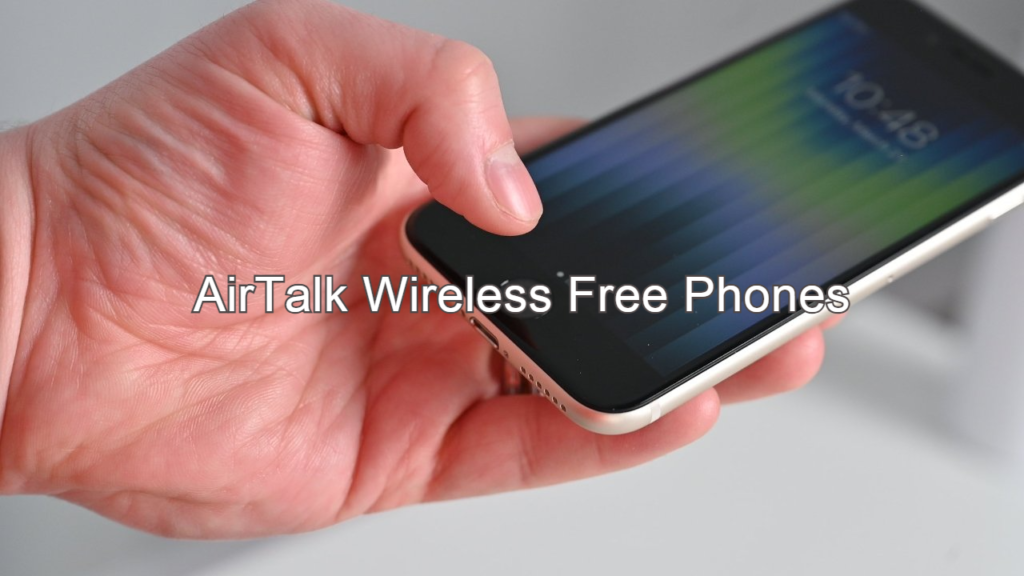 It is important to understand who qualifies for Airtalk Wireless Free Phones. Eligibility typically depends on factors such as income level, participation in other government assistance programs, or the applicant's participation in tribal-specific programs.
Airtalk Phones Eligibility Criteria:
Not everyone is eligible for AirTalk Wireless's free phone program. Individuals have to meet certain criteria to qualify.
Government Assistance Programs: Citizens who participate in government assistance programs such as Supplemental Nutrition Assistance Program (SNAP), Medicaid, Supplemental Security Income (SSI), Federal Public Housing Assistance (FPHA), or Veterans Pension and Survivors Benefit Program are eligible for AirTalk Wireless free phones.
Low-Income Status: Applicants must have proof that they are living at or below the federal poverty guidelines. This requirement helps ensure that the program reaches those who need it most.
Tribal-Specific Programs: Members of federally recognized tribes can also qualify for this program. AirTalk Wireless collaborates with tribal-specific programs to extend its services to these communities.
Airtalk Wireless Check Status: Know your Application Status
How to Get Your Airtalk Wireless Free Phones:
As you understand the eligibility criteria, here are the steps to get your Airtalk Wireless free phone:
Visit the Airtalk Wireless website and use their eligibility checker tool.
Check will you qualify for the program and proceed further
Select the plan that best suits your needs as Airtalk Wireless offers various plans with additional data and features.
Fill in the online application by providing all required documents
Airtalk Wireless will review your application and notify you of their decision.
If your application is approved, you'll get your free phone within a few weeks. Once you receive the device, Activate Airtalk phone and enjoy the benefits.
List of available Free Phones with Airtalk Wireless:
AirTalk Wireless offers a variety of smartphones to choose from, including both Android and iOS devices, ensuring that users can select a phone that suits their needs.
Apple iPhone 7
Samsung Galaxy S9
Google Pixel
LG V50 ThinQ 5G
Apple iPhone SE
Airtalk Wireless Free Phone Plans:
LifeLine Plan:
Free Smartphone
4.5 GB of Data
1,000 mins talk
Unlimited SMS
Caller ID
ACP Plan
Free Smartphone
8 GB of Data
Unlimited calls & SMS
Caller ID
Airtalk Wireless free phones are a game-changer for individuals to stay connected easier than ever. Don't let financial constraints hold you back from enjoying the convenience of a mobile phone. By partnering with the Lifeline Assistance Program AirTalk Wireless is ensuring that everyone has the opportunity to stay connected.