Memory and cache issues are quite common on little older android devices. Obvious thing is that we find solutions to empty trash on android from recycle bin. Before we proceed further, it is a little wondering to know about the trash folder on android phone. Few may wonder to know about trash bin on android phone as it doesn't appear publicly. Essentially, we find ways on how to empty trash on android when we run short of memory and empty trash. Though the practice is not so complicated or something, you need to empty trash folder on android to optimize your phone.
Where is Trash on Android Phone?
Since we can't find it directly on the home screen like windows, it doesn't mean we don't have a trash bin on android phone. The fact is that it isn't mentioned with the utility application name as 'Recycle Bin' or a 'trash' folder on android. The developer idea behind not providing such might be just to cut down space and make maximum use of limited memory.
As most of the android device's storage range from 8 GB to 256 GB, having a real-time utility app android recycle bin couldn't be possible. On the other hand, the existing android trash setup makes it much easier to for functionality and recovery of deleted information when needed.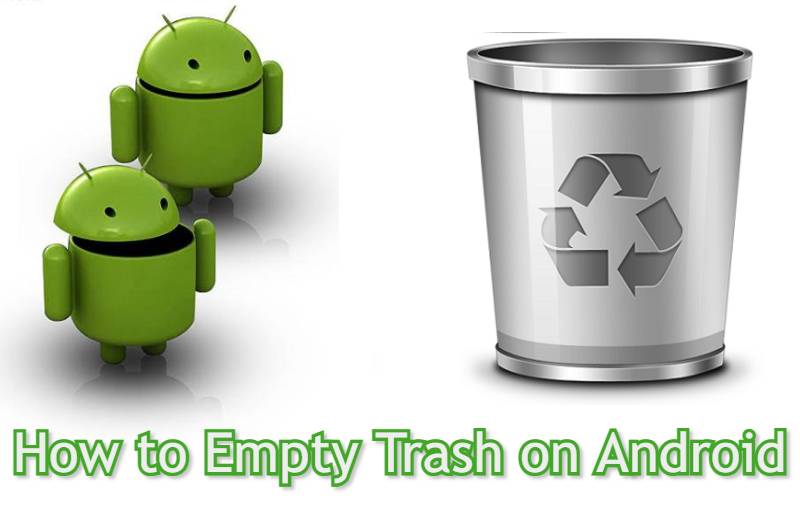 How to Empty Trash on Android:
Cache file issues are quite common on android devices are created by the apps we install on our devices. These automatically created android trash files optimize the system to work faster. Usually, these cache files will be in images, videos, and many other file formats.
You can also find other android trash folders and directories apart from the cache which you don't use any longer. Perhaps, it might be created from any application that you deleted earlier. Never the less, the folder remains unchanged and takes a load on your memory until you delete it.
Steps to Empty trash on Android phone:
Since it is clear that android trash files get stored in our device, it takes a toll on your device speed and memory usage. Here we detailed you steps to empty trash on Android phones and optimize phone usage.
How to Wipe Cache Partition on Android Phone or Tablet
Clear Cache on Android Device:
As mentioned earlier, all the stored cached data from scripts, images, and files will reduce the loading time of apps. Now be prepared that clearing this cache may result in a little long opening time. However, it cut down the consumption of unwanted load on memory. Here we detailed you about how to clear cache on Android phones.
Go to Settings and select 'Storage' option

Tap on the Cached Data button

Affirm 'Yes' as the pop-up appears on the screen to delete all your cached data.
You may feel deleting all apps cache will take a toll on your loading time and disturb you. You can pick the less frequently accessed app and clear that data.
Go to Settings, head to Apps.

Select the app which you wish to clear cache

Now, go to the Storage

Tap on the Clear Cache
Fix Message Blocking is Active Issue on Android and iPhone
Delete Unwanted Files from Folders:
As we download files from the internet and other sources, these take space on the phone memory. So, it is recommended to delete useless files as decluttering unwanted files and empty trash on android. Follow the below steps and delete all unwanted files and empty trash on android phone.
Open File Manager

Select the Downloads

Check through the files and select the unwanted ones

Tap on the Delete
Uninstall unused apps on phone:
Another major thing from the trash constraint is uninstalling unused apps. Sometimes this is a much-needed thing when you try to empty trash on android phone. Follow the below steps to remove unwanted apps that eat up your memory.
Open the Google Play Store on your phone.

Select Menu icon on the top left corner

Choose My Apps & Games from the pop-up menu.

Select 'Installed' tab from the top menu bar.

The list of installed apps will be displayed, select an app you wish to delete.

Click 'Uninstall' and delete the app.
Know what is ant radio service: Disable ANT radio Service on Android
Use a Trash Cleaner Application:
There are many third party junk cleaning apps available for download. You may find none of the above are helpful and you can't afford to delete your files and apps. These trash cleaner apps come in rescue to empty trash on your android phone.
There are many apps available on the Google play store available for free download. Choose the right app which is compatible with your phone specifications and android version. Commonly, your phone may face issues as the memory is close to full. In most cases, we are unaware of the files piling up.
This emptying trash on android device is the best possible hack to optimize your android phone speed. Also, we recommend you to keep a check on android trash files to better phone maintenance. How we've provided the right solution for your search for how to empty trash on android, comment down the way which helped you.