Many internal system applications make the Smartphone a hub to connect many devices. Just like Bluetooth, NFC, and Wi-Fi hardware, there are many other applications to make it future-ready. ANT radio service is one such internal application, which helps the smartphone to communicate with other devices. This ANT radio system application on a smartphone brings the data from the piece of hardware you use. Every IoT based tracking devices like fitness tracking devices and others make use of this ANT radio application.
What is the ANT radio service?
Essentially, ANT is an inbuilt system application to provide radio services by using ANT communication hardware. The service helps your phone to interact with the other tracking devices and transfer real-time data. However, the service doesn't activate until you connect your phone with ANT compatible devices.
The firmware service is designed for functioning on a smartphone to enhance productivity. The ANT radio acts as a real-time communicator by establishing communication between your hardware device and Smartphone. Besides that, the ANT service consumes less power over Bluetooth and doesn't affect carrier signal in any which way. Mostly used by sports and fitness tracking assistance, the system service also uses ANT+ plugins to communicate with ANT+ compatible products.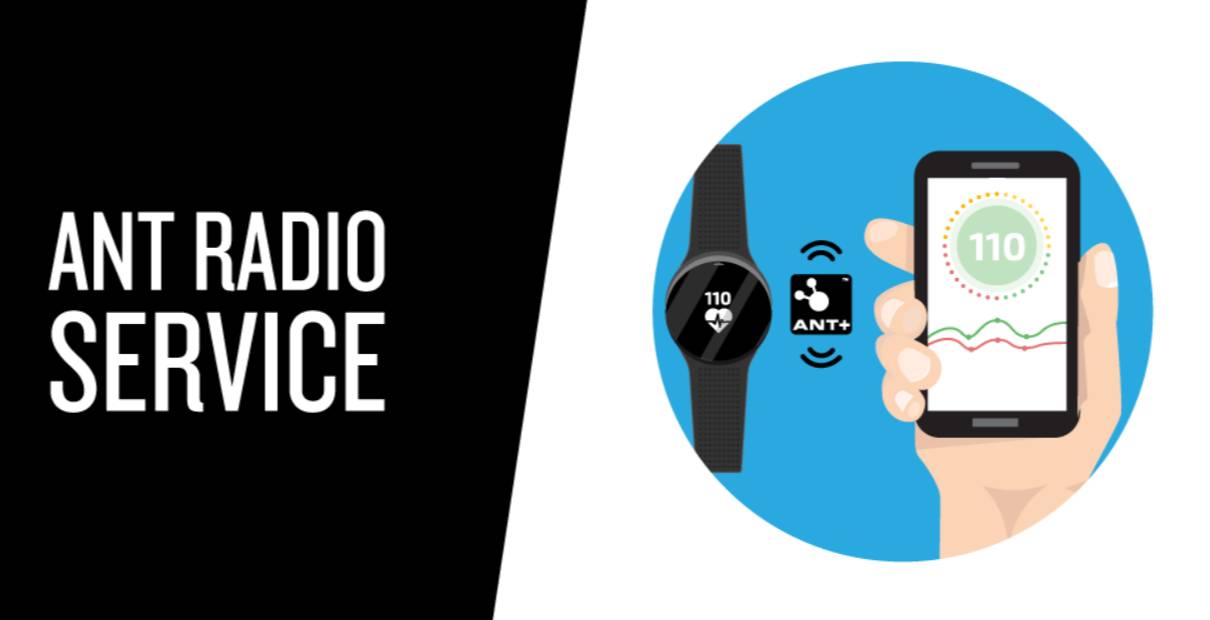 ANT radio service Features and Uses:
The ANT Radio Service performs lots of tasks on your phone without downloading or uploading any data over the internet. Also, it automatically enables apps to connect through its service to send and receive real-time data on your phone. ANT+ equipped fitness tracking devices can be connected for tracking the activity. Below are a few of the ANT radio service features provided for better productivity.
Receive heart rate data from wearable's like fitness bands

Connects to ANT+ enabled fitness equipment and workout apps

Captures bike speed, distance, and/or cadence data

ANT+ cycling power meters capture data to measure bike power

Speed and Distance Monitoring by capturing speed and distance
List of ANT Radio Service Apps:
This firmware cannot be launched directly and will run automatically in the background whenever ANT wireless communication is required. You need to install the ANT Radio Service, ANT+ Plugins If your device doesn't have one. Your device must support the Android protocol to install ANT radio service. However, the self-loop ANT can be found as an app on the Google play store for installation. Here is the list of some of the popular ANT radio service apps.
Samsung S Health

Garmin Fit

Endomondo

SportyPal

My Tracks

SportsTracker by STL

GPS Trainer UV

Selfloops

IpBike, IpWatts, IpPeloton, IpSmartHr

MapMyFITNESS/RIDE/RUN/WALK+/HIKE/DOGWALK
How to Cancel Adobe Creative Cloud
How to disable or Delete ANT radio service:
You can disable ANT radio service completely but not uninstalling them, since it is standard firmware. However, you can remove this from the phone directive by disabling service which will not affect your phone's software. Also, make a note that the service may re-enable when you reset or update your phone.
Furthermore, it doesn't consume data or storage even if you don't disable it. In addition, Power consumption would be close to nothing if you don't connect any ANT devices to it. If you still wish to delete ANT service permanently, you need to root your device which isn't advised. Here we detail you steps to disable ANT radio service.
Open settings

Go to applications

Select application manager

Select ANT radio service/ANT plugins

Click on Force stop and Disable
Summing up all, ANT radio service is definitely an appreciable firmware for better connectivity to your fitness tracking equipment. This will be a great guide for all fitness freaks who are a fan of wearable's to track their activity. However, it doesn't affect your phone even if you keep it unchanged.