Blizzard Entertainment's World of Warcraft (WoW) game is a huge hit as a multiplayer online role-playing game. Ever since its release in 2004, over 100 million gamers have created accounts bringing a billion dollars business for the gaming company.
Yet, there is a decrease in new user enrolling for paid accounts. No blame for anything, users move forward for the newly available games. However, MMO games launched by the company are backing the firm's financial aid. Now, many users wish to stop auto-renewal and cancel wow subscription. Definitely, WOW has got all the respect for its longevity in the gaming world. Also, the firm has introduced a free starter-edition for new players.
Essentially, this WOW free starter-edition allows new players to enjoy the gameplay up to Level 20 without any restrictions. The only thing required to avail the freebie is the Battle net account. Keeping the freemium aside, here we detailed you how to cancel wow subscription.
How to Cancel WOW Subscription:
You can simply opt to cancel WOW subscription anytime and the process is quite easy too. However, your World of Warcraft account will be playable even after canceling. You can still play the game until your current game time expires.
Another important thing to mention is, you won't get any refund even if you cancel WOW Subscription. The game service provider general policy states the same, but you can check out the 'refund review' feature to check if there is any exception. The feature is made available to please their loyal subscribers. If not you can get a cash refund, you may get few rewards. Try your luck!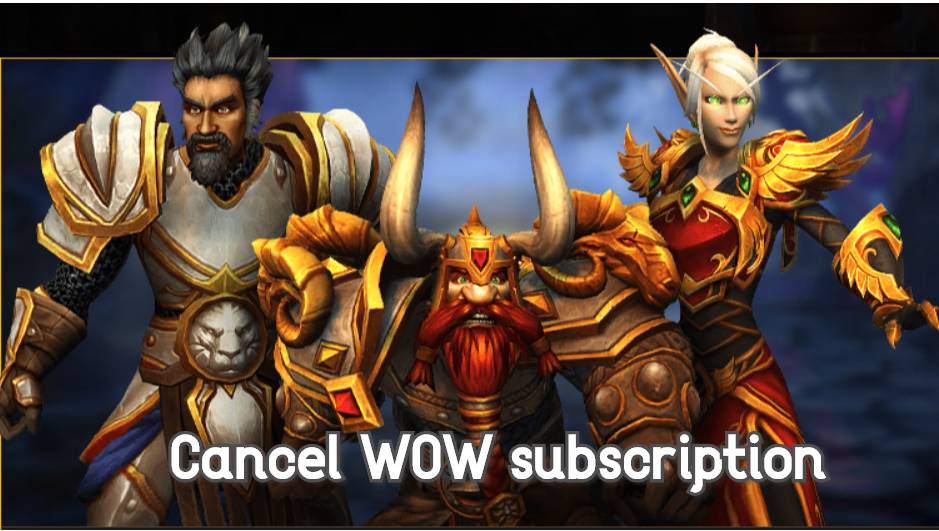 How to Cancel WOW Subscription with your Blizzard account:
You can cancel WOW cable subscription from your Blizzard entertainment account. Users can play even after wow subscription cancellation until your existing game time expires. However, your account type will become inactive after your game time expires. If you wish to continue from where you left, simply add more game time by renewing WOW subscription. Here we detailed you steps to Cancel WOW Subscription with Blizzard account.
Steps to Cancel Blizzard Account:
Visit the Blizzard account from your browser.

Login to your Blizzard account by providing account credentials

Find the account you want to cancel the subscription

Now select Manage beside it.

Click on 'Cancel subscription'

Your WOW Subscription canceled successfully
How to Cancel Adobe Creative Cloud without Cancellation Fee
How to Cancel WOW Subscription with your Battle net account:
If you find any issues when you are trying to cancel WOW subscription with Blizzard account, you can opt Battle net account. It also offers you to cancel wow cable subscription in a similar manner.
Log in to your Battle net account

Select Games & Subscriptions page

Find the account you want to cancel (if you have multiple accounts)

Click on Manage and select 'Cancel' subscription

Your world of warcraft account canceled
How to Delete IMVU Account permanently; Recover Deleted Account
Keeping the world of warcraft subscription price and paying for game time in mind, users should opt-in as per their usage.
Before subscribing the first thing one should know is the difference between paying for a world of warcraft subscription and paying for game time. Subscriptions plans are available for 1, 3, and 6-month duration. But game time is different; you need to buy it manually based on how regularly you're going to play the game.
You should cancel WOW subscription when you aren't using it. Yet, you cannot get your money back even If you have canceled the subscription before the expiration. However, you can still play the games until your current subscription period ends.