Spanish based computer manufacturer Slimbook revealed the new all-in-one Linux Slimbook Curve. The GDE/Linux based Slimbook curve comes with a 24-inch curved screen for a premium look. Makers had made this Linux all-in-one PC available in Intel Core i5 or Core i7 CPU variants.
Linux Slimbook Curve Specifications:
The desktops can be coupled with 8GB or 16GB DDR4 RAM. However, the company is planning to offer a 32GB memory option for its buyers soon. The Linux Slimbook Curve 24 is first of its kind all-in-one PC which has similar specs with the recently launched KDE Slimbook II. Yet, the newly launched PC provides few more hardware improvements over the earlier KDE Slimbook.
Buyers can choose between 120GB and 1TB of SSD storage to configure their Linux all-in-one Slimbook. Western Digital, Kingston and Samsung the tech giants offering the SSD's for the M.2 slot. On the other hand, a 2.5-inch second slot is facilitated for installing mechanical HDD or SSD.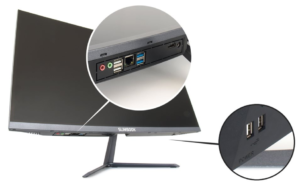 Discussing the slimbook curve design, the Linux all-in-one PC features a near borderless design with a metal bar at the base of the screen. The display offers an FHD screen resolution of 1,920 x 1080 pixels. The connectivity ports include two USB 3.0 ports, four USB 2.0 ports, an HDMI output, and headphone jack. Also, the desktop supports Bluetooth 4. Users can either pick Intel dual-band 3160AC Wi-Fi chip or Intel dual-band 82565AC chip for Wi-fi connectivity.
The entry-level variant Linux slimbook curve with Core i5 processor, 8GB of RAM, and 120GB SSD is priced at $1040. Besides that, the Core i7 trim 8GB RAM costs $1,165 and the price goes over $1,840 for higher configurations. The manufacturer states that it takes around three months for them to assemble the device and ship.
Users can avail Ubuntu, KDE Neon, Kubuntu, Debian, Open Suse, Linux Mint, Fedora, Antergos, or Elementary OS without any charge. Also, the makers are also shipping the PC with no operating system as per buyer request. In addition, Windows 10 Home and Pro are also being offered on request. Yet, buyers need to pay the extra charge to get the Windows versions.