As the world is moving by the storm of cryptocurrencies, South Korean tech giant Samsung is also getting on the path. Samsung Cryptocurrency hardware is official now with the announcement of ASIC (Application-Specific Integrated Circuits) chips. On the other hand, this Samsung Cryptocurrency chip adds more interest to the bitcoin mining industry. Recently Facebook has banned Cryptocurrency ads, now this Samsung ASIC chip launch ensures no loss for bitcoin craze among investors.
The company has collaborated with a China-based cryptocurrency mining equipment manufacturer which also will be distributing hardware for Samsung. Essentially, Samsung ASIC chips are specifically designed for mining cryptocurrencies like Bitcoins, Litecoins, NEM tokens, or Dogecoins. After surpassing Intel for being world's largest chip manufacturer, Samsung ASIC bitcoin miner will boost the company in the industry.
Samsung Cryptocurrency chips:
The company is been working on the 10-nanometer 16GB GDDR6 DRAM chips specially designed for better GPU performance. While these chips have better power efficiency, it can also be used for mining cryptocurrency. However, Samsung Cryptocurrency chip isn't the first of kind company's interest in the cryptocurrency mining business. The company has shown off a bitcoin mining cluster comprising 40 Galaxy S5 handsets back in October 2017.
Buzz is that the south-Korean giant will turn to be a serious competitor for the existing companies like Bitmain, Canaan and Bitfury. Never the less, these companies specialize in ASIC chips production, and are exclusively designed for Bitcoin and other cryptocurrency mining.
As of now, China-based Bitmain stands on top with best ASIC miner in the segment with over 70% of the market share. Now, the company believes that its new Samsung ASIC miner stands at least below Bitmain.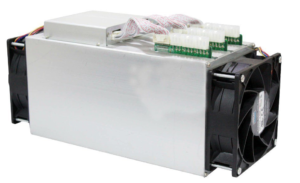 Samsung ASIC chips:
Bitcoin has recorded huge jump in its market value in the recent past. As a result, the mining industry is more benefitted by the recent surge. New Bitcoins can only be created by mining which involves networked computers solve a complicated math problem.
Usually, Bitcoin mining can be done by using a home computer, but the process is much complicated. As the popularity goes up, it has now reached a level where bitcoins mining can only be done with ASIC chips. Considering this, Samsung has now made its way to exploit the space with Cryptocurrency mining hardware. Then again, the maker has signed an agreement with Russian based bitcoin mining hardware firm Baikal to supply ASIC chips.
Crypto-mining hardware and comparison:
Presently, there are few companies who dedicatedly manufacturers hardware equipment that produces mining rigs. R4 home miner and the S9 series are the two most popular mining rigs from the brand Bitmain Antminer. However, both the machines consume same power and calculate similar terahashes per second (TH/s).
Never the less, people can build custom mining rigs or assemble a data station using devices and components of multiple companies. Yet, these parts made by a manufacturing company are expensive and high in demand. Also, there are calculators on the web to estimate the miner performance and return on investment. Conversely, the ROI timeframe may vary every day as per increases in electrical cost and difficulty in mining.