As the digitalization evolves, Smart TV technology has been widely adopted by users. Besides the TV viewing experience, it also gives access to streaming apps like Netflix, Amazon Prime etc. The Google Chromecast works brilliantly for streaming Google media apps like YouTube. Though it can stream Google media apps easily without any interruption, it doesn't support media center apps like Kodi. Thus, there is no native way to stream Kodi to Chromecast which disappoints all Kodi lovers.
Never the less, there is another way around to stream Kodi to Chromecast from Android or PC. There are 3 possible ways for streaming Kodi to Chromecast. Users can choose the best suitable way as per their convenience.
Stream Kodi to Chromecast from Android device: Using Google Cast App
This is quite an easy method to stream Kodi from your Android device. Here we provide detailed steps on how to stream Kodi to Chromecast from Android using an app.
Install Kodi and the official Google Cast app on your Android Phone.

Launch the Google Cast app and tap the hamburger menu on the top left

Click on the "Cast screen/audio" option and a message will be displayed saying "Screencasting is not optimized for this device; your experience may vary".

Ignore it and select "OK".

The app will display available Chromecast devices, now select your device.

Your device's interface should be mirrored to your Chromecast connected TV.

Now, open up Kodi android launcher and play any video you want.

The video starts playing on both your Android device and smart TV.
The only downside of this process is you need to stop all your phone functions. Also, you can't even lock your phone while mirroring the screen.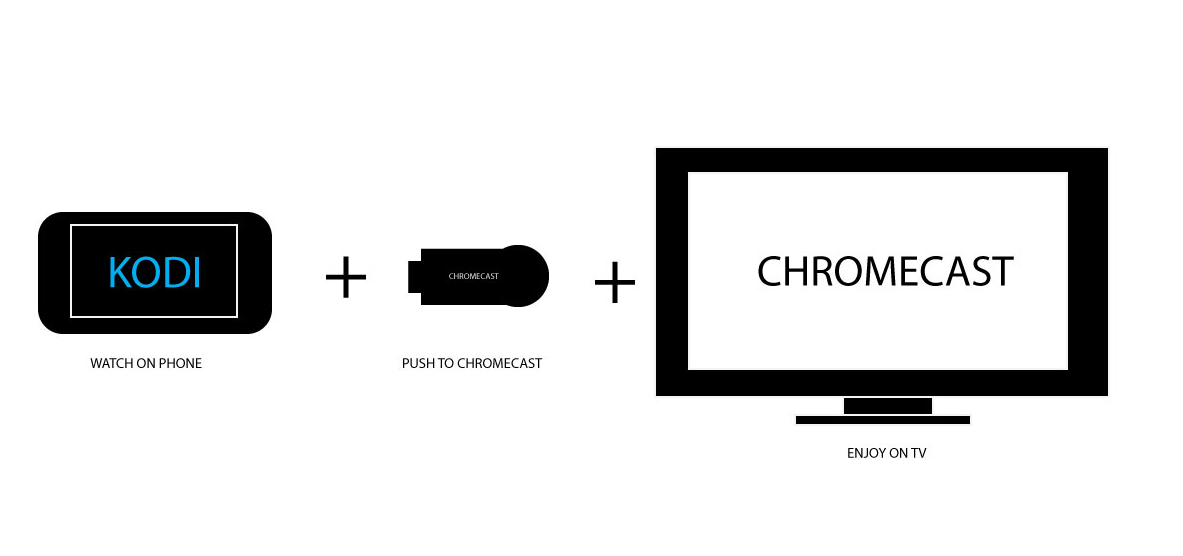 Stream Kodi to Chromecast from PC: Using Google Cast extension
Just like the above way, streaming Kodi from your PC or laptop is quite an easy task. Users can stream Kodi to Chromecast from PC with a Google Cast Chrome extension. Here we detail you the steps to stream Kodi on PC or laptop.
Install the Kodi client and Google Cast Chrome extension on your PC or laptop.

Open Chrome and click on the Google Cast extension

You'll find an option dubbed "Cast this tab to…" along with a small drop-down button.

Click that drop-down button and choose the option "Cast screen/window (experimental)"

Options will be displayed and to share the different tabs open in Chrome.

Choose "Entire screen" selection and open Kodi launcher and play any video

The video plays both on your PC and TV connected with Chromecast.