Switching from one network to another network isn't a big deal. You can opt to convert from one network carrier to another of your choice anytime. We'll explain an easy way out for att switch to Verizon without any hassle. At&t users switching to Verizon have many reasons which Verizon switch deals is one of them.
On a lighter note this Verizon vs At&t rival is been there to lure new customers. The wireless network provider tries to attract users with interesting Verizon deals for switching. No wonder Verizon iPhone deals when you switch will definitely grab every ones attention.
Before you opt from at&t switch to Verizon, plan to convert few days before your monthly billing ends. You need to pay early termination fees (ETF) if you have an At&t contract and you want to switch before it ends.
Att Switch to Verizon
Users switching to Verizon from att can either keep their existing number or opt for new number. Before you proceed for switching to Verizon, you need to figure out ETF and pay the carrier. There are other switch to Verizon deals which provides offers if you bring your own phone.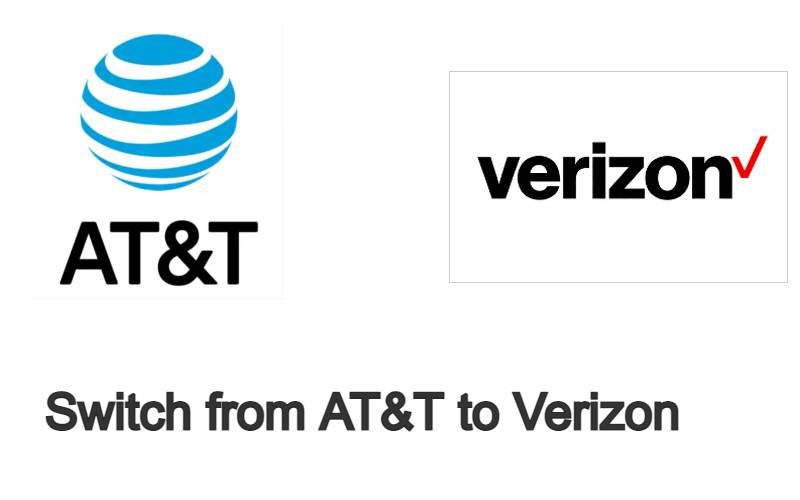 Also, there are other Verizon trade in deals which allows to trade-in your current phone to pay ETF. There are other tempting offers like Verizon free phone when you switch with lower price tags. It is completely up to you to choose the way you switch to Verizon. Nevertheless, we advise you to keep your old plan until you've successfully complete the switch to Verizon from att.
Straight Talk Mobile Hotspot Hack: Activate Straight talk hotspot
How to Switch from At&t to Verizon without changing Number?
Existing att customers can switch to Verizon without changing the phone number if they are eligible. They can simply choose number transfer to Verizon as we detail the process below
Open web browser and search for Verizon website for number transfer

Enter the AT&T number and click "Check Eligibility"

Proceed to the next step if your number is eligible to switch

Contact Verizon support if your number is not eligible, they'll assist you further.

Shop for your phone and plan if the Verizon number transfer if confirmed

Provide the required information for credit worthiness with Verizon along with other documents

Your AT&T should be automatically cancelled upon switch from AT&T to Verizon
You can also walk through Verizon retail store and talk with sales representative about existing att switch to Verizon. You can also directly select your new device and data and calling plan.
Switch to Verizon from At&t with New Number
Switching to Verizon with new line is like just applying for new connection. You can cancel the existing at&t later when your new Verizon activates.
You can select cellular phone and calling plan by visiting online or offline Verizon stores.

Provide the required information like Social Security number and other documents

You can also ask for Lifeline assistance program if you are eligible.

You can cancel the at&t service once your new Verizon service activates
How to switch to Verizon with Bring Your Own Phone?
Verizon provide discount when you wish to convert from att with your own phone. The Verizon switch deals provide discount up to $300 depending upon the plan you choose. On the other hand you need to unlock the device if you want to switch to Verizon with at&t phone.
Your existing phone should not have any fraud or theft history and no bill due from at&t. The phone shouldn't be in two-year contract and you need to wait at least 30 days before att port. If in case, the phone is registered on business name, you need to get permission from the workplace.
How to apply for free Government iPhone | EBB Program
Verizon trade-in deals for at&t switch
The wireless network provider is offering some interesting deals for at&t switch to Verizon. Also there are Verizon iPhone deals to existing customers, which allows upgrade or switch devices within the network.
Verizon trade in credits apply to your current phone and the amount will be paid back to at&t ETF. If in case the old phone didn't value enough to pay back ETF, Verizon will pay the due. However, you get great Verizon switching deals after checking att port status. You can only avail the promotion benefits only after the trade-in completes.
Besides that, the trade-in phone needs to meet some requirements about it value and condition. The phone should be cracks or any other functionality errors. Battery and LCD screen must be in working condition.
Conclusion:
It is no wonder users look for att switch to verizon for its service and other privileges. Users can also switch to att from Verizon whenever they feel like. But, the best part about switching to verizon from att is they don't charge for it. In addition, verizon deals for switching attracts more customers with its offers.