Bothie 2 app: Ever felt like missing the loved ones in the photo frame who stood behind the camera for clicking the picture? No more such worries, Bothie 2 app brings you together in the same frame by capturing with both the cameras. There are other apps which offer a collage of photos with grid cutting the photo into a certain ratio. This new bothie app essentially makes the two cameras work at the same time for a bothie. As a result, the outcome will be the two photos in a single bothie.
You can put your selfie into the main photo and add reactions to pictures which make happy memories. These Bothie apps get the front and rear cameras to work at the same time for a single picture. On the other hand, the app also offers the benefits of Bothie live stream and Bothie video. The app provides your desired photo in a single take by capturing with both the cameras.
How to download Bothie 2 app in Android and iOS:
Bothie 2 free download is available for users at Google Play store. Interestingly, the app is available without any ads.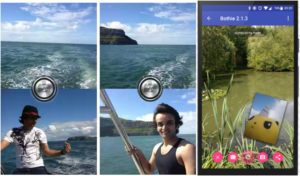 Steps to Install Bothie 2 app on Android:
Open Google Play store

Search for Bothie 2 app in Google Play store

Click on 'Install' to download Bothie 2 app

The app is ready to use
Bothie 2 app features:
Combine two separate photos into a single bothie by using Bothie 2 app. Yet, the camera app does not activate both cameras at once as it not possible with the regular Android camera APIs. The selfie will be the main photo and the picture clicked by the rear camera will be appearing in a small portion. Also, it allows users to add their own reactions to their pics. Besides that, this photo collaging tool facilitates users to zoom and pan the images for a perfect composition.