After the mixed result with the Jio Phone sales, Reliance Jio is gearing up to launch an Android Go 4G VoLTE smartphone. Jio has partnered with MediaTek for manufacturing this low-cost 4G smartphone. This Jio Android Go 4G phone will be listed for much lower price than the existing Lyf branded Jio 4G smartphones. Reliance Jio aims to lure more users to its network with the launch of this Jio Android Go 4G smartphone.
Recently, Google unveiled Android Oreo Go for low-end smartphones which have less hardware configuration of 1GB RAM or less. The toned down Android Oreo Go OS will be available for low-cost 4G smartphones and runs lighter app versions. Google claims that the new Android Go will play a crucial role for adoption of smartphones in markets like India.
Jio Android Go 4G Phone:
Essentially, Jio is planning to attract entry-level smartphone users with this Jio Android Go 4G phone. However, the telecom provider is planning to apply the same strategy used for Jio Phone. Earlier, Mukesh Ambani-led group has launched Jio phone which effectively cost Rs.0. Now, this firm might be planning to launch this Jio Android Go 4G smartphone at a record-level low price.
Buzz is that Jio is planning to order over a million units if this Android Go 4G phone. However, it seems that company will have the same Jio Phone like approach even for this Jio 4G smartphone.
The youngest telecom aims for maximum migration to smartphones with the launch of low-cost Jio Android Go 4G phone. Also, this new initiative brings smartphone more accessible for entry-level users. Recent statistics state that Jio Phone holds 27% stake in the feature phone market.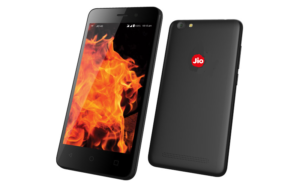 Jio Android Go 4G Phone Price:
Airtel and Vodafone also offer such bundled 4G smartphones with lower prices. Amidst the cashback and other offers, they are offering 4G devices to as low as under Rs.1500. It is expected that the upcoming Jio Android Go 4G smartphone might price even low.
Considering this move, many domestic and Chinese smartphone makers are planning to launch entry-level Android Go smartphones. Micromax has already announced Bharat One, Android Go Oreo powered smartphone and will be launched soon. Besides that, the Micromax is also planning to premium features to its mid-range lineup. Yet, it would be more interesting to see how Jio Android Go 4G smartphone attracts entry-level smartphone buyers.
Android Go OS for Jio 4G smartphone:
Google has launched Android Oreo Go in the I/O event extending its OS support for lower hardware configuration phones. Effectively this lite version of Android OS brings down the amount of storage to half. Android Go will run only customized lighter versions of app.
The newly launched Datally app and other Go apps like Files Go, Mail go comes pre-installed on Android Go OS. Effectively, the Android Go serves the users with best of basic smartphone functions with ease. Now, China-based MediaTek will work with Google to produce CTS-compliant Android builds low-cost Jio Android Go 4G phone.