Qualcomm has launched the Snapdragon 700 Processor range at its press conference at Mobile World Congress (2018). This new range of SoC is designed to offer Snapdragon 800 series like features and performance for affordable devices. Also, this new mobile platform includes on-device AI support through the Qualcomm Artificial Intelligence Engine (AIE). This Qualcomm AIE aims to accelerate on-device AI-enabled user experiences. The company has also announced its Snapdragon 5G module solutions and its partnership with Asus for the modem-to-antenna solution. The upcoming Asus models will get RF Front End with the Snapdragon 845 SoC and X20 Gigabit LTE modem.
Snapdragon 700 Processor Specifications:
The Snapdragon 700 SoC to deliver double AI performance 30 percent more power efficiency over Snapdragon 660 SoC. The combination of a dedicated Hexagon Vector Processor, Kryo CPU and Adreno Visual Processing subsystem offer heterogeneous computing in Snapdragon 700 Processor. Furthermore, Snapdragon 700 series touts multi-core Qualcomm AI Engine which brings AI to more mobile devices. However, support for LTE, new Wi-Fi standards, and latest Bluetooth version remains common.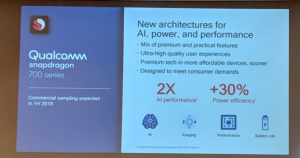 Qualcomm Spectra ISP in the Snapdragon 700 series provides enhanced image results. The chipmaker claims that the latest upgrades will provide "professional-grade camera features" for the devices. On the other hand, Snapdragon 700 SoC series will get Qualcomm Quick Charge 4+ technology for devices. The chip-maker claims this new Quick Charge technology will regain 50 percent battery in just 15 minutes.
As of now, the company hasn't revealed about the mobile companies who are partnering for Snapdragon 700 series. While it is clear that the commercial samples of the Snapdragon 700 processor are expected to roll out in the next few months.
In addition, Qualcomm has unveiled new Snapdragon 5G module solutions which will supposedly provide 5G support mobile devices. However, the modules include over thousand components to bring a blazing-fast 5G experience for future smartphones. As per the maker concern, the Snapdragon 5G modules will pack discrete components which results in design upgrade.
Apart from the Snapdragon 700 processors range, Qualcomm and Asus partnership for the RFFE modem-to-antenna solution might be debuted in Asus next press conference. If it is believed true, RFFE suite will deliver high-end connectivity and long battery life.